Design and optimization of die casting
The fastest and most complete mold design process!
Total and integrate solutions for injection molding from part design, analysis to complete manufacturing included Automatic create parting surface, filling, packing, cooling analysis and optimize mold system. Reduce design cost, manufacturing cost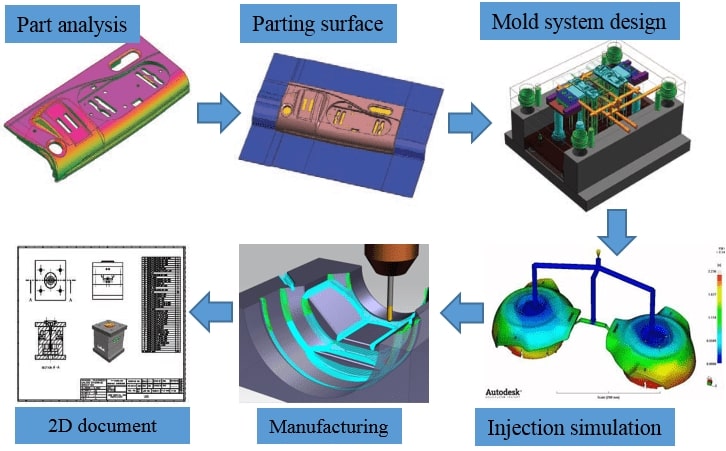 Part design or data translator: In order to improve collaboration with suppliers and customers using different CAD formats. The software allows the direct import of data many 3D CAD system and intermediate CAD formats.

Fig 1: geometry analysis and validate
Automatic create parting surface: automatic create parting surface for simple part to complex part, Use special tools for parting surface design and advanced surface modeling tools. Automation patched holes that automatically generate parting face, core and cavity separation tools.
Fig 2: Automatic create Parting surface and generate Core, cavity
Channel design, cooling systems: intelligent too for gates and runners, cooling systems , reduce design time, use many deffirent standard

Fig 3: cooling system design
Injection simulations: Assess the risk of product defects and change design và giving optimize of designing such as Position of gate, number of gate, runner, cooling channel systems…etc. Simulation capability included: filling, packing, cooling simulation.

Fig 4: HPDC simulation
Integrate mold base and standard part: Integrated library of standard parts from all most manufacturers: FUTABA, LKM, DME, HASCO, PUNCH, PROGRESSIVE, POLIMOLD, … VV.

Fig 5: Moldbase and standard library
Detail design: Design slider systems, motion simulation of mold assembly.
Automatically create 2D drawing: automatic create Drawing of mold assembly, mold components…
Electrode design: Electrode design integrate on NX mold, it is allow designer for automatic design electrode, library holder, automatic create drawing sheet with size, coordinate of electrode, BOM of electrode, Automatic create CAM programe for electrode

Fig 6: Automatic design electrode
Integrate CAM for Mold compornent and electrode: Siemens NX integrates design and machining solutions, engineers can make a CAM program the molds and electrodes directly on the NX after the design, minimizing design time and errors, automatically updating them, In case of design changes, the NX allows full programmable machining capability from 2.5-axis, 3-axis, multi-axis, turning, milling, machining and mill-turn machining. Simulation with CNC machine model, creating template machining library, tooling library, optimum machining library, enabling shortening machining time.

Service:
Basic and advance training
Simulation evaluation of casting part and die
Mold design
CNC programing by CAM for die and electrode