The fastest and most complete electrode design process
Summary
NX™ Electrode Design software delivers a state-of-the-art solution to enable today's tool manufacturers to shrink their lead times and reduce their costs. By combining industry knowledge and best practices with process automation, NX Electrode Design streamlines electrode modeling and design for any tool project that requires EDM. NX Electrode Design excels at handling the most complex and challenging electrodes, providing a timesaving, step-by-step solution that automates and helps toolmakers effectively design, validate,document, manufacture and manage the entire EDM process from design through production.
Manufacturing geometry identification
You can automate the way you specify the manufacturing processes for surfaces on the core and cavity. In addition, you can automatically search, recognize, group and color faces that you want to burn and rough through EDM, WEDM, milling and grinding.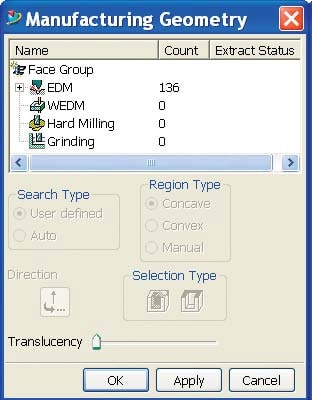 Design the electrode working area and blanks
You can leverage specialized and efficient features to model the shape of the electrode head/burn area. Highly complex shapes are easily achieved and are associative – design changes made to the core and cavity properly propagate to the electrode, drawing and into machining.

NX Electrode Design add-on content
Electrode design
Manufacturing geometry identification (EDM, WEDM, milling, grinding, as-specified)
Box
Trim solid
Replace solid
Extend solid
Reference blend
Intelligent blank design
Spark area and type specification
Copy to new positions and orientations
Mirror
Undersize geometry based on spark gap and orbital motion

Electrode documenting
Automated drawing creation
BOM

Standard catalog offerings
Holders
Creation of special fixtures
Machining pallets
Validation
Projection area
Burn area
Interference validation
NX Electrode Design can add-on to and
integrate with Siemens PLM Software
product bundles and NX Mach Series
products including:
NX NC Machining
NX Mold Design
NX Progressive Die Design metasolution
Process
Benefits
Highly automated electrode design process
Specialized electrode modeling tools
Standard component libraries and intelligent blank selection
Fast and efficient design change propagation across entire process (tool design through machining)
Reduced electrode design errors
Automated drawing creation
Effective data and process management
Decreased EDM programming time