The fastest and most complete mold design process
Summary
NX™ Mold Design software delivers a state-of-the-art solution that enables mold manufacturers to shrink their lead times and tighten their cost controls. By combin­ing industry knowledge and best practices with process automa-tion, NX Mold Design streamlines the entire mold development process: from part design to tool assembly layout, tool design and tool validation. NX Mold Design excels at even the most chal­lenging mold designs, providing advanced functionality, step-by-step guidance and associativity with part designs to ensure fast response to design changes and quality molds.
Main Functions
Product analysis
Validate part design for manufacturability using wall thickness checking functions, draft analysis and undercut region detec­tion and radius evaluation.
Tooling analysis Validate
The mold design within the assem­bly context for proper clearances and reliefs in various positional states. Analyze the electrode requirements. Improve tool longevity with strength analysis and sharp corner detection.

Design change management
Graphically compare versions of a design for similarities and differences. Swap design versions, control the propagation of change and efficiently update related fea­tures, drawings and toolpaths.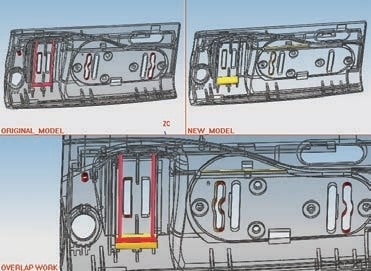 Mold design
Shrinkage
Parting line and surfaces
Shut-off surfaces
Core/cavity and region split
Cooling
Merge cavities
Runners and gates
Subinserts and hole charting
Sliders/lifters
Template configuration – re-use
Ejection
Concept design
Automated drawing creation and holecharting
GD&T, 3D annotation, BOM, hole table,wire EDM start hole
Design change control

Standard catalog offerings
Part and assembly modeling
Solid and feature modeling
DesignLogic
UDF
Free form modeling, basic
Straight break sheet metal
Assembly modeling
Free form modeling, advanced
Synchronous technology