The fastest and most complete progressive die design process
Summary
NX™ Progressive Die Design software deliv­ers a state-of-the-art solution that enables progressive die manufacturers to shrink their leads times and tighten their cost con­trols. By combining industry knowledge and best practices with process automa­tion, NX Progressive Die Design streamlines the die development process, from design through to tool validation. NX Progressive Die Design is a comprehensive solution for quality die design, supporting associativity with the part design at every stage of die development and including a variety of functions specific to automotive progres­sive dies.
Part and assembly modeling
Straight break sheet metal
Freeform modeling, basic
Advanced assemblies
Advanced sheet metal design
Freeform modeling, advanced
DesignLogic
Solid and feature modeling
Assembly modeling
UDF
Synchronous technology
Part preparation
Efficiently design both straight break and freeform sheet metal parts using a broad set of sheet metal features. Leverage fea­ture recognition, bend table and direct unfolding capabilities to design associative intermediate stage parts with prebends and overbends
Product analysis and tool analysis
Validate part design for manufacturability using data quality analysis, formability analysis and flattened blank shapes. Apply the One-step Unforming and Formability Analysis technology to analyze and design intermediate forms and the flattened blank shapes for complex freeform parts.
Validate the progressive die design within the assembly context for proper clearances and reliefs in various positional states. Analyze material usage of the strip layout and press force balance. Simulate the strip progression. Calculate and report press force and force center

Process design
Utilize strip layout and scrap design tools to quickly prepare the strip layout. Specify the strip details and progression of design stages using a streamlined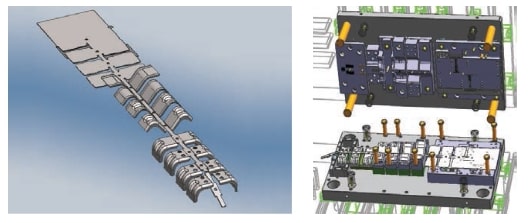 strip layout workflow. Simulate the manufacturing of the strip to ensure proper ordering of stations.
Progressive die design
Sheetmetal feature recognition andassociative unfolding for straight break parts
Unform and flatten complex freeformparts
Blank design and layout
Scrap design
Strip layout design
Insert group design (bend, blank, burr,chamfer, counter bore, countersink, curl,deburr, dimple, emboss, engrave, form,lance, lifter, mount, pierce, pilot, userdefined)
Relief and pocketing design
Automated drawing creation and holecharting
GD&T, 3D annotation, BOM, hole tableand wire EDM start hole definition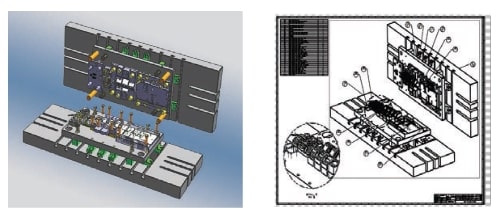 Standard catalog offerings
Insert components (die accessories,punches, plates, bushes, pins, dowels, screws, springs, posts): Danly, Dayton, Hyson, Interchangeable, Unified, Strack, Superior
Die bases: Superior, Strack, Universal
Die base management
Standard part management
Validation
Press force calculation
Material usage
Product validation
Formability analyses – thinning
Interference checking stress, strain andspringback